Indigo Workplace Wellbeing
They say we spend 1/3 of our lives working so it's important that we feel good in our workplace. We've worked with organisations big and small to help teams get their shit together.
We're not like any other mental health organisation. Old methods need to change if we're going to break the stigma of mental health, and we want to be that change.
Our Approach
Wellbeing can often feel clincial. We speak your language. We're on your wavelengeth.
Science works. We draw from postive psychology, neuroscience and mindfulness.
It's not all hype – we empower people with practical tools and tips to manage their mind.
With an empathasis on music and creativity, our approach to mental health is refreshing and approachable.
Therapy & Coaching
We pride ourselves on our down-to-earth therapists; real people who get you. With ten practitioners specialising in areas like transformation, anxiety, stress and relationships, our team can empower your staff to revamp their personal and professional lives. Contact us about retainer packages for your employees.
Immersive Experiences
We believe that some of the most valuable learnings come through the felt experience. We achieve this through unique events that fuse music and immersive environments with core principals of positive psychology, mindfulness and neuroscience. Our immersive experiences provide a framework, through which we tailor the session's focus to the specific needs of your organisation.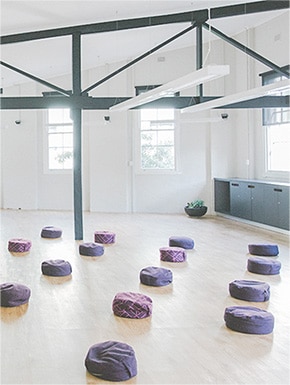 Sustained Wellness Programs
A sustained wellness program involves a deep analysis of your organisation's wellness goals, and a bespoke package that incorporates relevant components from four core offerings: Workshops & Courses, One Day Intensives, Immersive Experiences and One-on-One Therapy & Coaching. Send us an e-mail for more info on our corporate packages.
Our Clients