Rates & Availability
Standard Fee is $255.00
Clinical Psychologist
($131.65 Medicare Rebate available*)
Out-of-pocket is $123.35
Days: Mon, Tues
Online via video call
* The Medicare rebate is available to clients under the Better Access to Mental Health Care initiative.
Get to know Michael
Clinical Psychologist Michael takes a practical and creative approach to therapy, with a focus on developing a shared understanding of your goals, motivations, and personal history. Warm and engaging, Michael encourages reflection and exploration of how personal concerns may come to dominate your thoughts, feelings and behaviours.
He has worked extensively with people experiencing alcohol and drug misuse. For many people, these issues are related to unresolved past issues, or as a way to deal with stress, anxiety, self-esteem and relationship issues. Michael believes that each of us has the capacity to build insight into our own motivations and behaviours, and to develop new and more adaptive ways to manage issues in our lives.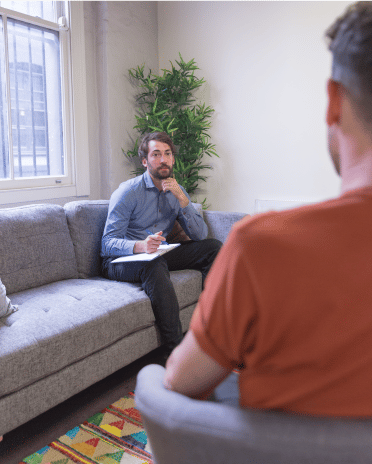 With a passion for martial arts, Michael has travelled the world representing Australia in Taekwondo. This saw him supporting Olympic and Paralympic athletes to balance world-class performances with holistic person development. He enjoys integrating his knowledge of psychology to help high performance athletes train and perform under pressure.
A career highlight involved supporting newly retired athletes with transition and transformation in their life after retiring from sport. Michael is a Clinical Psychologist who believes that all individuals hold the strength to support themselves in achieving mastery in new life directions.
Clinical Psychologist Michael's Quick Stress Tip
"When we're trying to achieve an important goal, we can often get nervous and find our stress peaking the closer we get. How do we manage this?
Name the experience: Name familiar feelings and thoughts to recognise unhelpful patterns. 
Normalise: Remind yourself these unpleasant experiences are normal. 
Mindfulness: Your thoughts are not necessarily the truth. Practise mindfulness. Observe your experiences coming and going. 
Commit to valued action: Ensure your actions are moving you towards what is most important to you even if it is temporarily distressing.
Focus on the controllable: Mindfully attend to the things you need to do and can do to control the situation – not those you can't. Do not push unpleasant experiences away, but try to accept these whilst bringing your attention back to doing what matters."
My therapy song…
LISTEN TO SOUL, LISTEN TO BLUES – Safia